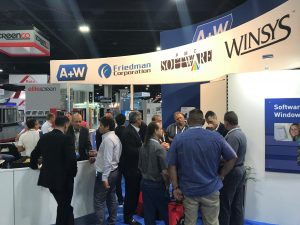 As Thursday winds down at GlassBuild America, A+W Software has been helping visitors realize their goals.
Some visitors to A+W's booth who expressed interest in growing their business also said that they were wary of the significant costs involved in the Internet of Things — Namely, outfitting their manufacturing facilities with robotics and automation.
That's where A+W comes in. "Our products offer a single language for everyone to talk with," said A+W Operations Manager Hasan Askari. "We work with whatever you have." Discussions at A+W booth have focused on growing efficiency and profits but without the steep buy-in involved with robotics. In other words, A+W gets the same job done by working with you.
Thursday ended like Wednesday — With cake. Visitors were treated with a special cake blazoned with the A+W logo and by noon, it disappeared! The uptick in visitors on GlassBuild's last day was also due to Hurricane Irma, which forced many visitors to get to Atlanta, but later into the conference. On Wednesday, GlassBuild announced it was pledging $15,000 in hurricane relief to help industry companies located in areas impacted the most by Hurricanes Irma and Harvey.
Check out our photo gallery below and forget to follow us on Twitter! See you next year!
[gallery ids="873,874"]